At CDCI we believe it is important to give back to the community. Our friends at the Dallas County Dental Society Foundation share that belief and we are inspired by how they have chosen to give back. This year CDCI has decided to participate in the foundations' ongoing auction by donating a pair of Cowboys tickets. The proceeds from this auction will go to the DCDS foundation.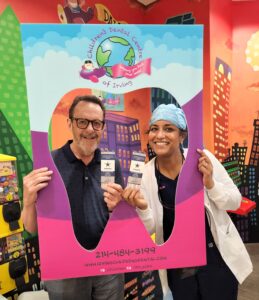 Here are just a couple of ways the DCDS Foundation has given back:
• Take on 1 to 2 patients per year by participating in the Hopeful Smiles provider program
• go to elementary schools to educate kids about their oral health
• match volunteer dentists, hygienists, assistants and dental students with local nonprofits who have clients needing oral health care assistance
• Share career information about dentistry to middle and high school students for career day
• Support TDA's Texas Missions of Mercy which is a mobile dental clinic that travels around the state providing charitable basic dental care to Texans with limited resources and/or access to care
• Support the Give Kids a Smile program which provides underserved children free oral health care
DCDS formed the Dallas County Dental Society Foundation in 1998 as a nonprofit public charity with a mission to enhance oral health in our community. Through donations and volunteers, they can promote improved access to oral health care, education, and research. We are so honored to have an opportunity to help this amazing foundation for all that they do!
If you are interested in volunteering or donating, go to www.dcdsfoundation.org.
References:
https://www.dcdsfoundation.org/