Our Waterlase iPlus dental laser, affectionately dubbed Sparky, gives us the ability to perform a wide variety of dental procedures on both soft and hard tissue with several benefits, including: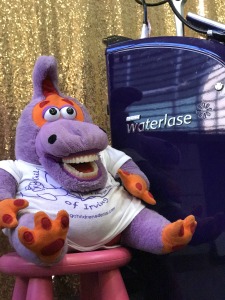 Faster healing time
Less, sometimes no, anesthetic required for some procedures
Ability to treat multiple quadrants in one visit, in some cases
Soft tissue procedures with little to no bleeding, and no stitches required
Sparky uses laser energy and a gentle spray of water to perform a wide variety of dental procedures without the heat, vibration, or pressure associated with the dental drill.
Ask us about Sparky at your visit for more details! You may also visit the Biolase website .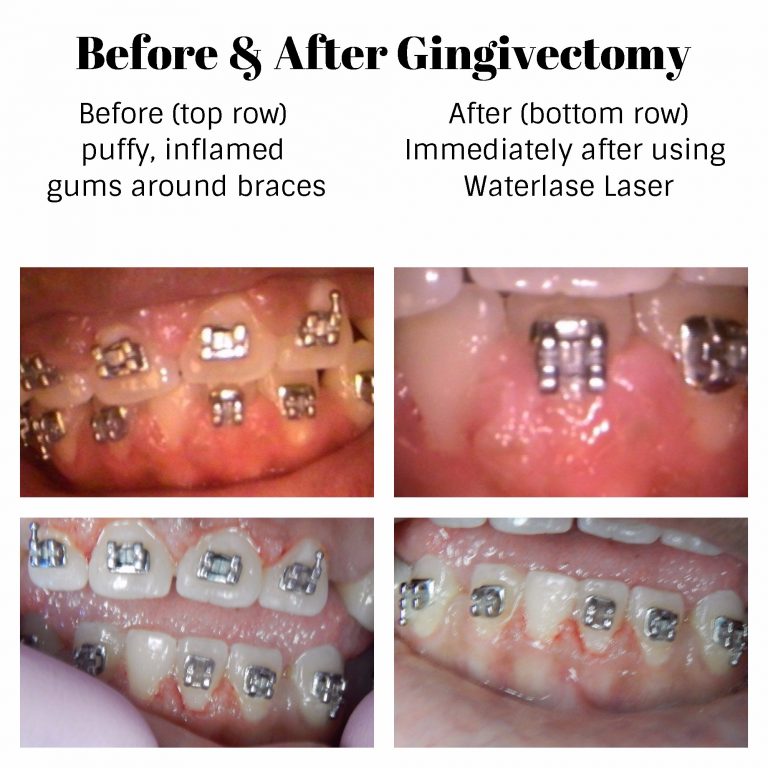 ---
Bacterial Reduction Therapy
Less Bacteria = Lowered Risk of Gum Disease, Infection, and Discomfort!
Improved Oral Health = Better Overall Health
What is Bacterial Reduction Therapy?
Concentrated light energy is used to vaporize unhealthy bacteria — safely and comfortably decontaminating the gum tissue around teeth.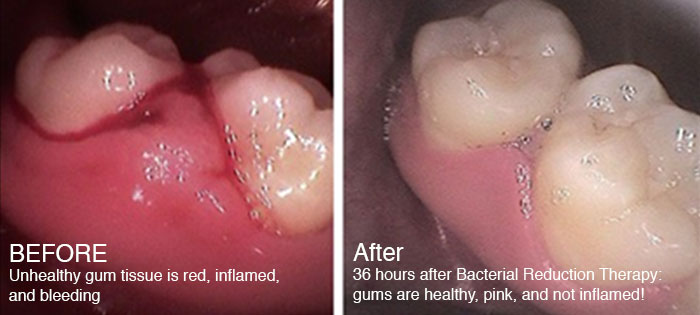 What are the Benefits of Bacterial Reduction Therapy?
Oral bacteria levels are reduced up to 90%!!!
It stops the spread of bacteria by preventing cross-contamination from an affected area of the mouth to a healthy area.
Is Bacterial Reduction Therapy Safe for Kids?
Yes! Bacterial reduction is safe for patients of all ages! The treatment is painless and does not require anesthetic.
Is the Procedure Time Consuming?
Not at all! Bacterial Reduction Therapy can be completed in as little as 10 minutes, and can easily be added in to your regular 6-month checkup and cleaning appointment.
---
Cold Sore Treatments
Resolve cold sores in days – not weeks! Laser therapy is a gentle, non-invasive treatment with many benefits, such as:
Significantly reducing the sensitivity, itching, and burning associated with cold sores
Resolving painful and embarrassing lesions in DAYS instead of WEEKS
Preventing the spread of infection by forming a protective layer over open, contagious sores
Laser therapy can be performed at any stage of cold sore development. The earlier treatment is received, the greater impact it may have on the severity and duration of the sore.
Stages of Cold Sore Development:
You may feel an unexplained tingling, burning, or soreness around the mouth.
A day or two later, one or more red, fluid-filled blisters may form on the skin's surface.
Within a few days the cold sore will break open. Sores will be red and shallow.
The blister dries out and may look yellow or brown. This is the "crusting" stage.
The final healing stage occurs when the crusted blister scabs over and slowly flakes away.
Ulcers
Mouth sores and ulcers inside the mouth are painful and can interfere with a person's ability to eat, sleep, or concentrate. Ulcers can be treated with the same gentle laser therapy used for cold sores. The protective layer formed over the ulcer immediately minimizes soreness and pain, making eating, drinking, and daily activities more comfortable. It also speeds up the healing process significantly!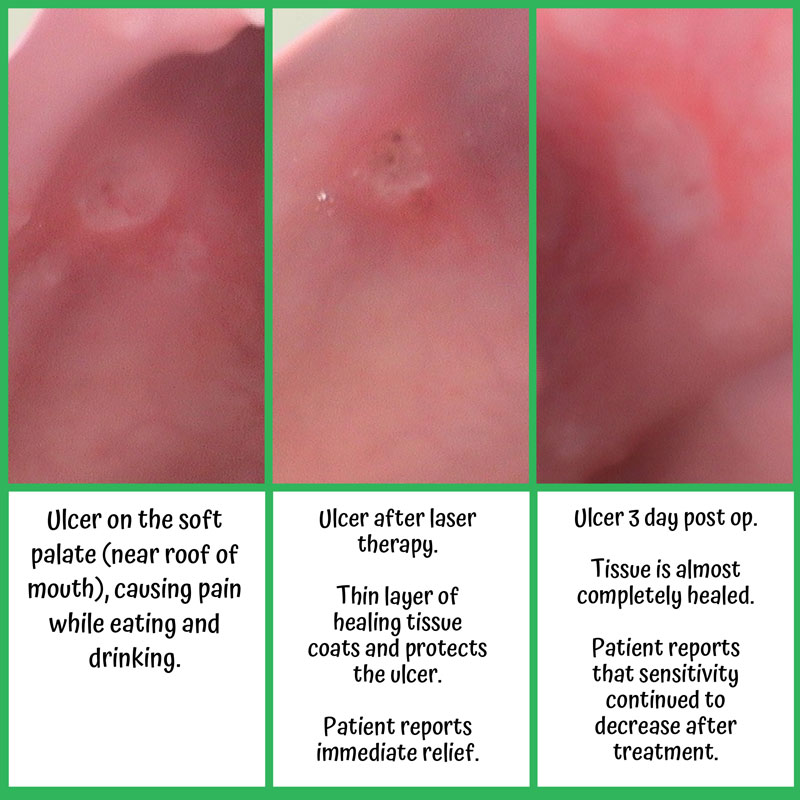 Mucocele Removal
A mucocele is a small, benign mucous cyst that can form on the lips, floor or roof of the mouth, or tongue. Mucoceles are often caused by trauma and are fairly common. A simple action such as accidentally biting your lip while eating could result in the formation of a mucocele. These small bumps usually resolve themselves; however, they can become troublesome and painful if they are touched or re-traumatized and can continue to grow.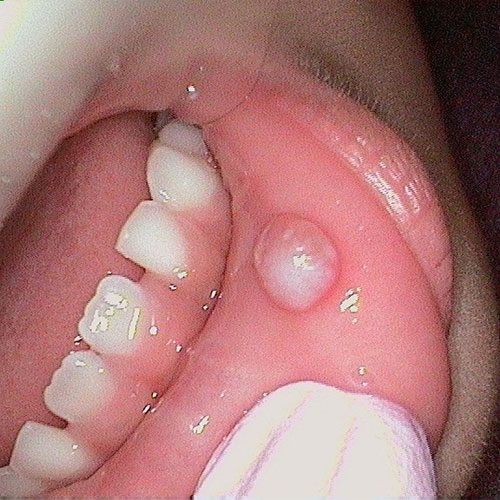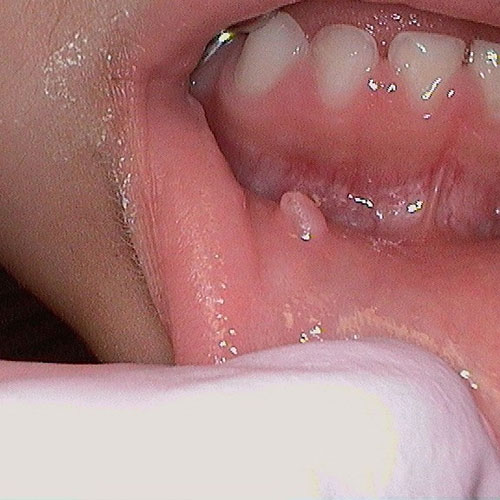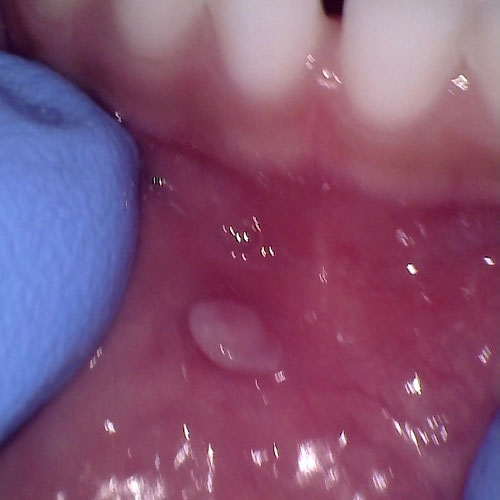 The major benefit of laser mucocele removal over traditional surgical methods is the quick healing time. Your child can get back to feeling normal faster and with less sensitivity!
Waterlase MD™

WaterLase Laser Dentistry from BIOLASE
Maximum Comfort – Complete Efficiency – Stunning Results
Dental anxiety, whether mild or severe, can prevent patients of all ages from taking a proactive approach to receiving dental care. WaterLase dentistry works without heat, vibration, and drilling to provide a minimally invasive, precise, comfortable alternative to traditional treatments.
What is WaterLase dentistry?
The WaterLase utilizes advanced laser technology to:
Help reduce patient anxiety
Provide minimally-invasive restorations
Significantly reduce the need for retreatment
Comfortably prepare patients for fillings, root canals, and cosmetic treatment
Provide treatment using less anesthesia
Reduce bleeding, post-operative swelling, and pain after treatment
Provide a more efficient treatment in less time
How does it work?
Laser dentistry has revolutionized the way patients receive dental treatment. WaterLase uses the high-tech combination of YSGG (yttrium-scandium-gallium-garnet) laser energy and water to provide a more comfortable dental experience with lasting results.
WaterLase is so precise that your doctor is able to perform restorations to the teeth, gum, and bones without causing damage to surrounding areas in the mouth.
Is it safe?
WaterLase is safe and effective. First approved for use in 1998, WaterLase is now used by dentists around the world to deliver accurate, comfortable treatments that meet the needs of patients of all ages.
If you'd like to learn more about WaterLase treatment, or find out if this is the right treatment for you, please contact our practice and schedule an appointment. We will be happy to answer any questions that you may have.