Whether your baby is breast or bottle fed, healthy dental habits are important!
Follow these tips to keep your baby cavity free:
Wipe your baby's gums and teeth clean after each feeding.
Don't allow your child to breast or bottle feed at will throughout the night. Make sure your baby finishes feeding before bed and goes to sleep with clean teeth and gums.
If your child is bottle fed, do not put any other liquids besides milk/formula in the bottle.
Don't put your child to bed with a bottle. If your child must have the bottle in bed, make sure it's filled with 

plain water only.
"Baby Bottle Decay" is a common term for the devastating, full-mouth cavities that can form when teeth are constantly exposed to the natural sugars in breastmilk and formula. Don't let the name fool you - breastfed babies are equally susceptible to this type of cavities!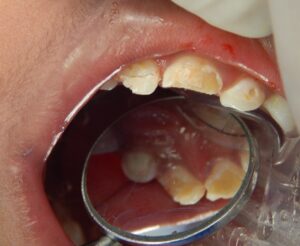 Your child's first dental visit should happen by age 1 or when the first tooth erupts, whichever comes first.
Regular 6 month dental check-ups with a board certified pediatric dental specialist is an important part of your baby's oral health care.