Toddler Toothfairy Tuesday
Toddler Toothfairy Tuesday is a program we launched this year created for children 16 months and younger. The AAPD recommends dental checkups by the age of 1 and we felt this program was a great way for your child to get established in a dental home with a complementary dental check with our board-certified pediatric dentists!
Please call our office and mention "Toddler Toothfairy Tuesday" to reserve your spot, appointments cannot be made online.
Please see below for our requirements:
For ages 16 months and younger
There is a $50 deposit that we will refund the day of, non-refundable if the appointment is cancelled under 24-hour notice
Your child can NOT be an existing child or a sibling of an existing child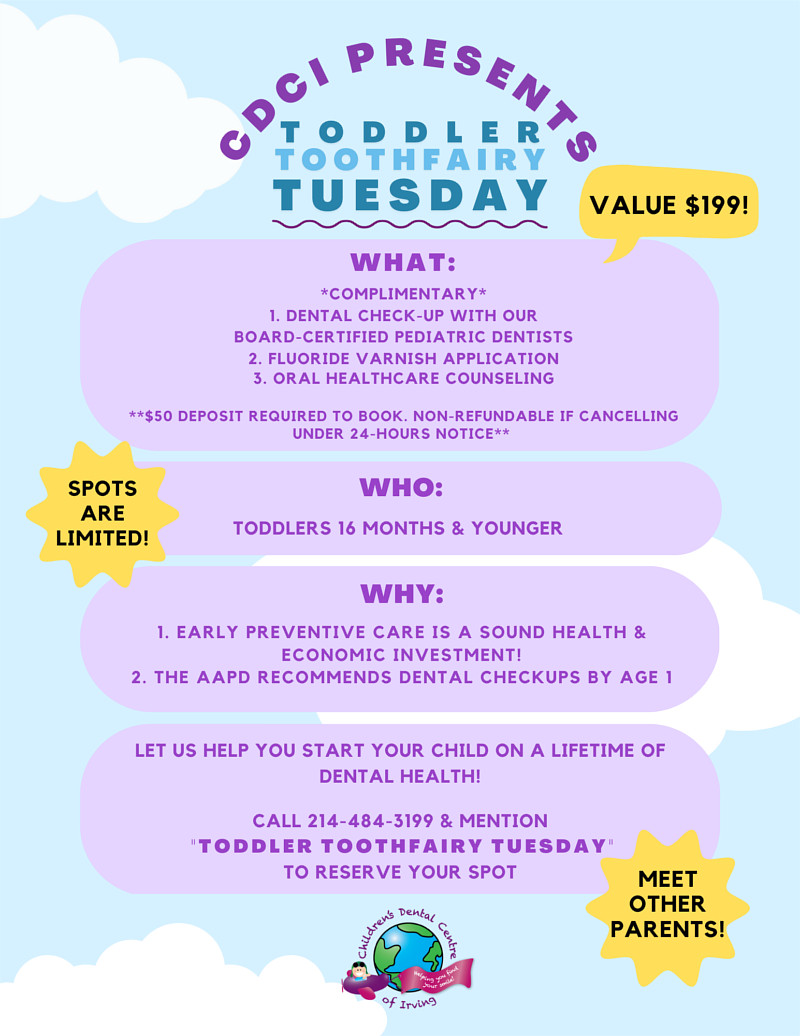 ---
Feed Free
Dr. Kuba was selected to participate in a pilot program, "Pathways to Community", sponsored by the American Dental Association and Crest/Oral B. This program's goal was to help identify women leaders in dentistry and give them support and tools to create a community outreach initiative. Dr. Kuba knew immediately she wanted to help moms who want to breastfeed but are having difficulties due to tethered oral tissues and cannot afford the recommended procedures. Hence, Feed Free was born! This program requires a referral from a speech therapist, lactation consultant, body worker or chiropractor. If you are any of the before mentioned, please see our attached referral under our referral tab!
*Ex: a typical cost for a frenum release in the DFW area ranges from $400-600 per site